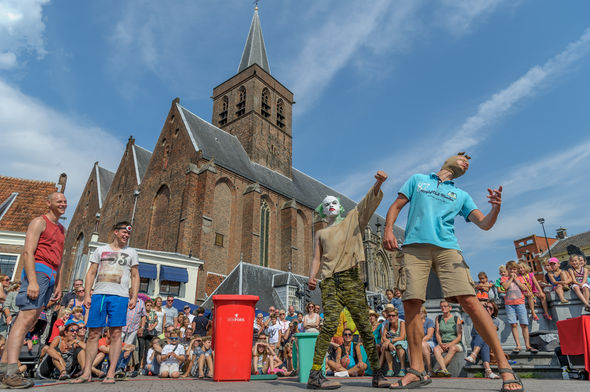 Cão à Chuva - clown Rui Paixão and musician Carlos Reis: one of the highlights of Spoffin OFF last year. (Foto: Wim Lanser)
Spoffin OFF 2017: apply now!
Professional, up-coming street artists and those who want to show new work can apply to participate in the Spoffin OFF program, the showcase part of the Spoffin Festival in Amersfoort (The Netherlands). (Jan 1, 2017)
> More...
Photo report Spoffin 2016
Do you remember? Les Frères Troubouch, Cão à Chuva, HURyCAN and so on? Our photo report helps refresh your memory and brings back the glorious summer of 2016 with a nice impression of the many street and location theatre performances in Amersfoort. (Nov 7, 2016)
> More...
Spoffin LAB 2017: apply now!
Spoffin, the international festival for street and site specific theatre in Amersfoort, The Netherlands, has opened a public call to performers across Europe to apply for Spoffin LAB, a residency project supporting young theatre artists who are in the process of finishing a new project created for public space. During the month of August 2017 Spoffin LAB offers the opportunity to assemble a new production which will premiere during the Spoffin festival (August 24-27, 2017). (Oct 28, 2016)
> More...