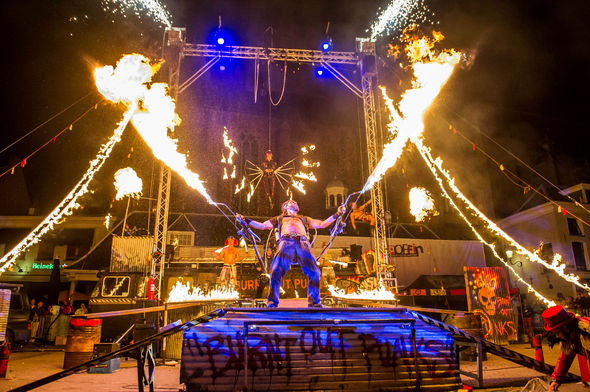 De Burnt Out Punks uit Zweden zetten de Hof in vuur en vlam (Foto Wim Lanser)
Spoffin 2015: Urban, quickly and at the same time abstract and still
The sixth edition of Spoffin, the international festival for street- and location theatre in Amersfoort [NL], started and ended with lot's of fire. Spoffin openend with the Dutch premiere of The Stockholm Syndrome by the Swedish Burnt Out Punks on Friday and closed with a massive fireball on Sunday, a spectacular end of the concert by the Amersfoort Youth Orchestra.
(Aug 30, 2015)
> More...
Spoffin 2015: international stepping stone for outdoor theatre
Wondering what the next generation professional circus artists in Europe hold in store? How anarchistic is the opening performance of the Burnt Out Punks (SE) who will reclaim the public space for art and culture with much love and a bus load of explosives? Spoffin, the international festival for street and location theatre, offers a program interesting to both public and professionals. The sixth edition of Spoffin in Amersfoort (NL) - Friday 28 till Sunday 30th of August - features 106 performances by 30 groups from 15 different countries, including 11 Dutch premieres.
(Aug 19, 2015)
> More...
Street arts knows no boundaries
Circus artists, professional street theater groups and other theatre makers and street artists in Europe perform as many times abroad as in their own country. A large number of these companies even play more often abroad than in their country of origin. Why and how do different countries encourage and support the mobility of the arts abroad? What makes the cost of transport? During the sixth edition of international street arts festival Spoffin in Amersfoort (NL) festival organizers from all over Europe will discuss the limits of the travel policy with government agencies from Catalonia, France, England and the Netherlands.
(Aug 17, 2015)
> More...
Spoffin honored with EFFE Label 2015-2016
International street arts festival Spoffin is one of the European festivals selected to receive the EFFE Label 2015-2016. Initiated by the European Festivals Association, EFFE (Europe for Festivals, Festivals for Europe), is the portal for citizens and for professionals to discover and get involved in Europe's festivals. (Jun 3, 2015)
> More...